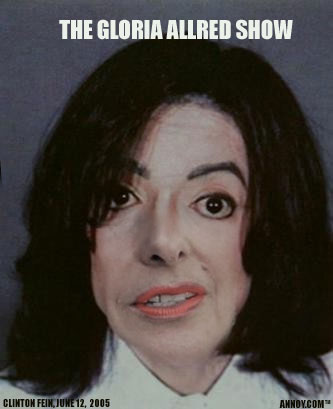 Just when you thought there was nowhere further down to go, when the very dregs had been scraped and repackaged, the headline-guzzling, bottom-feeder and celebrity attorney, Gloria Allred, craving publicity since her Amber Frey heyday, has managed to find a way to forcibly insert herself into the latest public media wave.
You guessed it. Borat!
Although I haven't yet seen Borat: Cultural Learnings of America for Make Better Glorious Nation of Kazakhstan, and despite having loved Ali G, Sacha Baron Cohen has managed to overexpose himself nearly as much as Lyndsay Lohan in a very short space of time.
And as it rakes in the millions unexpectedly quickly (over $60 million over the past two weeks), lawsuits and finger-pointing keep popping up like a publicist's recurring wet dream. Aside from the official Kazakhstan outrage in the form of angry ambassadors and full-page New York Times advertisements, there were the drunk, bigoted frat boys suggesting Cohen's reps had plied them with alcohol causing Mel Gibson-like diatribes. (They had originally planned to discuss the feminist subtext of Charles Dickens' Great Expectations before the Grey Goose kicked in.)
Then there were the villagers from Glod, Romania, who claimed they were tricked into participating in the movie, and worse, were paid pittance for being portrayed as backward, animal-raping Kazakhs. Then the former Internet sensation, Mahir Cagri, stepped forward to say that not only was he the inspiration for Cohen's Borat, but that Cohen's portrayal of him as an anti-Semitic homosexual is a misrepresentation.
So like a shark smelling fresh blood, and with Michael Jackson secluded under an abaya somewhere in Brunei, Gloria has struck like a stingray quicker than you could scream "Crikey!" Cindy Streit, the owner of Etiquette Training Services who teaches Borat etiquette was horrified when he excused himself from the table only to return with a bag containing presumably feces.
Now, with the earnestness reserved for stays of executions, Ms. Allred claiming Streit was led to believe the second of two scheduled sessions "will be filmed as part of a documentary for Belarus Television and for those purposes only," filed a complaint yesterday with California Attorney General Bill Lockyer, requesting an investigation into possible violations of the California Unfair Trade Practices Act. Oh, the indignity of it all.
Perhaps, instead of focusing on how to hold a fork, Streit would be better served teaching herself how to read a contract. And on the subject of etiquette, is it really proper to hire a media whore to scrape the bottom of an already-dry barrel?
What would Miss Manners say?