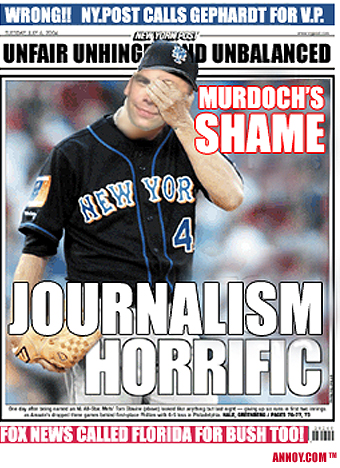 Amidst the cries of censorship and the frenzy surrounding the OJ Simpson/Judith Regan/Fox News saga, people seem to be confusing censorship with public backlash.
Despite a long-winded screed defending her decision to publish O.J. Simpson's hypothetical confessional, If I Did It, Judith Regan's attempt to garner sympathy appears to have come from the Linda Tripp School of Redemption. In fact she almost sounded like Linda Tripp in her infamous, "I am you" speech, claiming that she did it for all the women who had been abused, herself, front and center.
News Corp. the Rupert Murdoch owned media empire that owns both ReganBooks' parent, Harper Collins as well as Fox News, and who stood to benefit by this grisly cross-promotional cheap-shot grossly miscalculated how swift and ferocious the backlash would be.
Even I, on Annoy.com, took News Corp. to task, but not with the kind of hypocrisy that the holier-than-thous at MSNBC and CNN et al. saw fit to cover the story. Taking a graphic image of Nicole Brown Simpson lying in a pool of blood, her slashed throat covered by a promo of O.J. s new book and the News Corp. logo and tag line, mocking Judith Regan's claim of domestic abuse solidarity and whitening her skin in much the same way Time magazine had once made O.J.'s darker, the piece was titled, using the same font as the book, If We Had Ethics. The irony is that I am posing the question as much to myself as I'm applying it to News Corp. After all, we are exploiting a tragedy in almost the identical, gratuitous way. The main difference though, is that ours is a commentary, and we aren't making any money from it.
The ferocious response from the outraged public, as advertisers warned of pulling ads amidst rumors of consumer boycotts, as Fox affiliates jumped ship, refusing to air the interviews, and bookstores refused to sell the book, News Corp. bailed. Not because of a sudden pang of conscience and instantaneous recognition of the bad taste they were exhibiting, but because in totality, the endeavor was doomed to cost them, not make them, money.
If anyone thinks Rupert Murdoch's statement was about a sudden cathartic recognition that the toilet paper garbage he produces globally is too damaging and unfair, wake up and smell the ink. His was the business equivalent of President Bush realizing in 2004 that Iraq was a mistake and pulling out. That's why Rupert Murdoch will be around longer than President Bush.
No matter what, this was not censorship. There was no government involvement in this whatsoever, and truthfully, News Corp. has the right to say and publish what they want.
The market, however, can also tell a corporation where to get off, and they sure as hell did.
But don't be fooled into thinking the Diana-chasing is over. Not by a long shot.