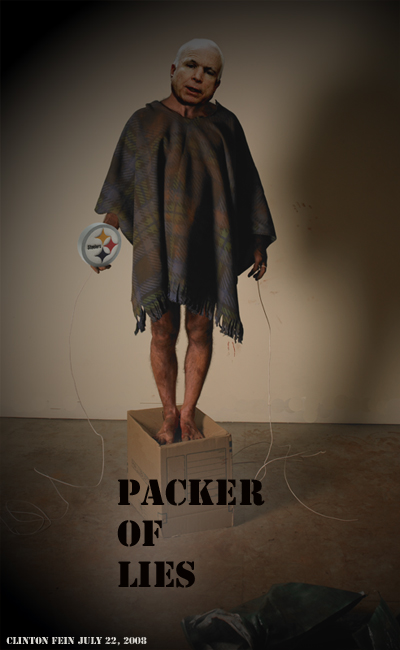 "When I was first interrogated and really had to give some information because of the physical pressures that were on me, I named the starting lineup -- defensive line -- of the Pittsburgh Steelers as my squadron-mates!"
Thusly lied John McCain, milking and politicizing his torture in Vietnam, as he pandered to a Pittsburgh TV station KDKA. Pity it didn't match the story he told in his best-selling memoir "Faith of My Fathers," in which he claims to have recited the names of the Green Bay Packers.
"Pressed for more useful information, I gave the names of the Green Bay Packers offensive line, and said they were members of my squadron. When asked to identify future targets, I simply recited the names of a number of North Vietnamese cities that had already been bombed."
Uh huh.
I, for one, am so over having to pay respect to John McCain's supposed hero status. His alleged torture doesn't even ring true with me. Someone who was actually tortured wouldn't have compromised, as he did, in legislation related to America's responsibility to uphold the Geneva Conventions. Someone actually tortured would have stood his ground with an unequivocal condemnation. Not John McCain. And so, like the faux outrage over The New Yorker's Obama cover, depicting him as an unpatriotic, fist-bumping terrorist, there is another supoosedly hallowed topic we daren't discuss. The bullshit McCain keeps reciting about his torture that everyone seems petrified to question.
Is John McCain a demented, forgetful, damaged veteran, unfit to be a Commander in Chief, or a pandering liar, unfit to be a Commander in Chief?